Guy Anderson, RSPB
Thanks to a certain Christmas song, turtle doves are forever associated with this time of year. Just one example of how frequently they crop up in our music, art, and literature. A bird that punches well above its weight in the heritage of human cultures all across its European and Asian breeding range. The spring return of this migrant every year has been widely celebrated as a sign of returning good times, and the seasons of productivity and harmony.
So it's always a good time to look back on what we have achieved this year to help the doves' own productivity and harmony….and what a year it has been.  We have secured the first ever season without hunting of turtle doves in Spain, Portugal and France. In recent years, these three countries together accounted for over a million birds being hunted annually. These are the three European countries through which all turtle doves that breed in North-western Europe – and that includes the UK – migrate every autumn. There is every expectation that this ban will be repeated over the next few years at least, as part of a long-term strategy – agreed and being driven by the European Commission – to ensure that any future hunting is carried out on a truly sustainable basis.
This great news from Spain, Portugal and France gives us the perfect opportunity to accelerate efforts to improve conditions for turtle doves on their breeding grounds. More birds returning to the UK will need more territories with good dense scrubby nesting habitats, lots of accessible seed food and drinking water. So huge thanks are due to all of you – hundreds of farmers, landowners, and volunteers – who are creating and protecting exactly what turtle doves need in our landscape. More and more of you are pitching in and joining the effort. As one example, you helped the RSPB/Natural England's Turtle Dove Friendly Zones project achieve a 35% increase in the area of land holdings engaged with the project in just a single year from 2020 to 2021. That means more turtle dove seed plots, more spring and summer supplementary feeding sites, more freshwater sources, and protected nesting habitats. Fabulous news for our wild turtle doves – all currently on their West African wintering grounds in Senegal, The Gambia, Mali and their neighbours.
We are already starting to see the first signs that all the effort being put in to improving the doves' breeding areas is starting to pay off. In Kent, farmer and all-round turtle dove conservation enthusiast, Anthony Curwen said "So happy to see and hear turtle doves back on the farm this year after an absence of many years. The conservation measures I have put in of creating easily accessible water, habitat provision and supplementary feeding are making a difference, and the doves are nesting here again. So good to hear their purring call here once more."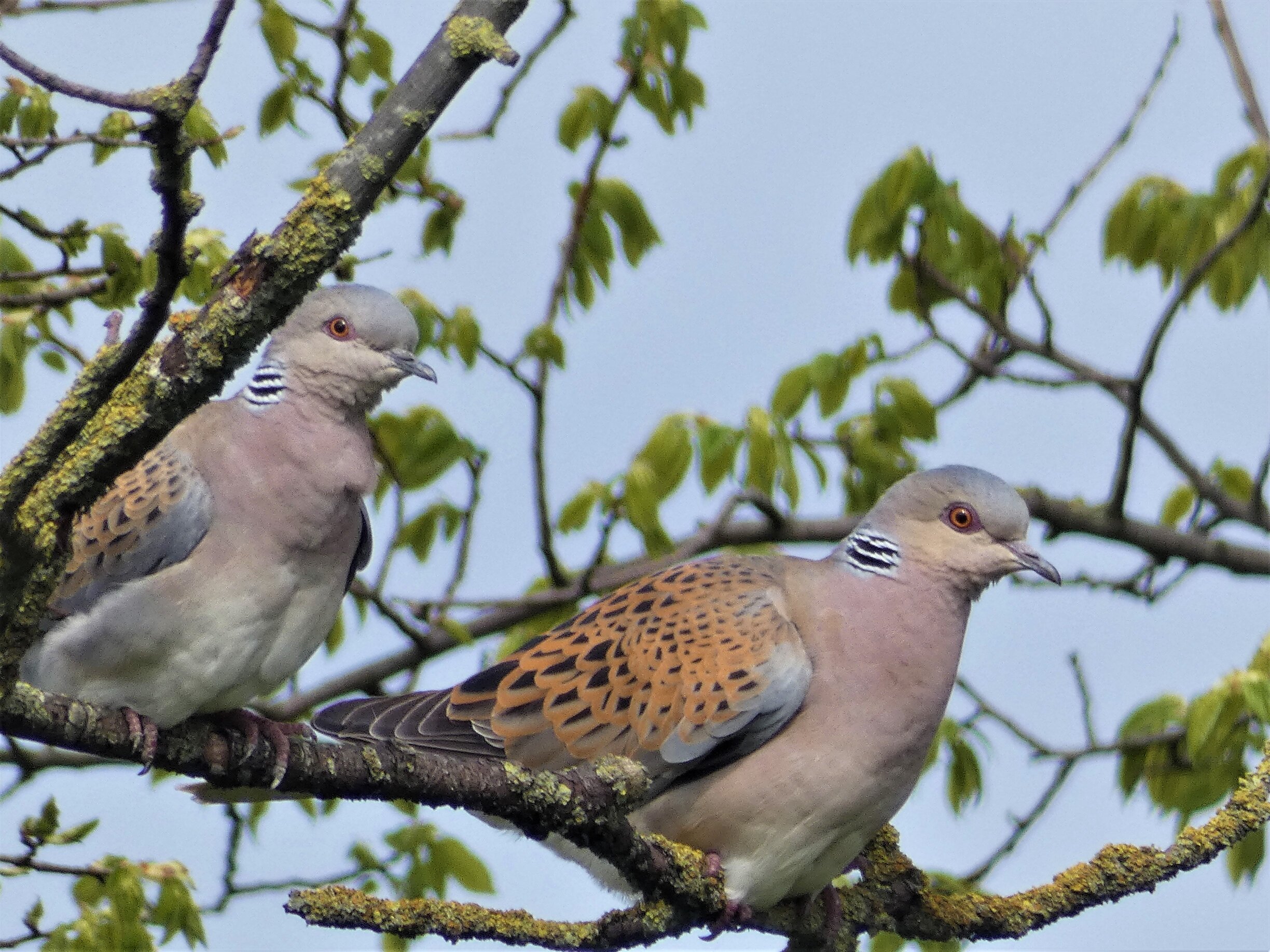 All the fabulous effort that is being put into improving breeding season habitats in the UK will not just help turtle doves but a whole raft of countryside wildlife too. Nightingales, grey partridges, yellowhammers, bullfinches, a whole raft of warblers, bats, dormice, butterflies, bees, and rare arable plants can all benefit from the same land management that helps turtle doves. Think of turtle doves as a 'flagship' species – by helping them we help a whole ecosystem of countryside biodiversity that has struggled under exactly the same pressures faced by our doves.  This has helped turtle doves become RSPB England's Bird of the Year.
So Happy Winter Holidays all – Christmas, Winter Solstice, Hogmanay, whatever you celebrate.  Whether you are in the UK, France, Spain, Portugal, Senegal, Mali, or anywhere in-between. As the sun begins to climb back up the sky, your turtle doves have a brighter future.