Alison Woodward is the administrator for Pensthorpe Conservation Trust, one of the Operation Turtle Dove partners. Although she has worked on the project since it's inception and sees the captive turtle doves at Pensthorpe Natural Park on a daily basis, Alison has been desperate to fulfil an ambition to see a wild turtle dove. Here, she tells the story of her search…
I am involved in the Comms Team of Operation Turtle Dove and work for the Project's partner Pensthorpe Conservation Trust, I know a lot about turtle doves, so much so that it seems almost impossible that I have never seen one in the wild. I say never as I distantly remember them as a child growing up in Surrey, but not knowingly since. So I have been looking, sometimes stopping my car by fields and listening for their restful purr, from which their name originates (think turr turr). At other times I have researched local sightings on BirdTrack, I once heard a wild turtle dove at Pensthorpe but I needed to see one.
As desperation rose I asked those more active in local birding than I, and was tipped off early one morning of a definite sighting by Rob Yaxley of Dove Step fame. So I grabbed kids, camera, monocular, food and drinks and headed to general area of the target wood in the Wensum valley, got lost and asked a local who gave excellent and much needed directions. Once parked alongside just one other car (after traversing an extremely potholed track!) we were greeted by numerous bird's songs and no modern sounds except I think an occasional bird scarer from a distant field.
Almost immediately we could, if standing quietly, hear the gentle but unmistakeable purr of a turtle dove so we aimed for the source. All three of us were excited, turtle doves are iconic in this area and in our family, representing a fragile species that is now tragically scarce.
Then I saw it high up in a tree but stunning through the monocular, he carried on purring as we approached. Once there would have been other turtle doves almost mirroring this one as they also broadcasted their presence. The photos I took were poor but they do not detract from the happiness this sighting gifted. It makes me wish to do even more to help protect this incredible species.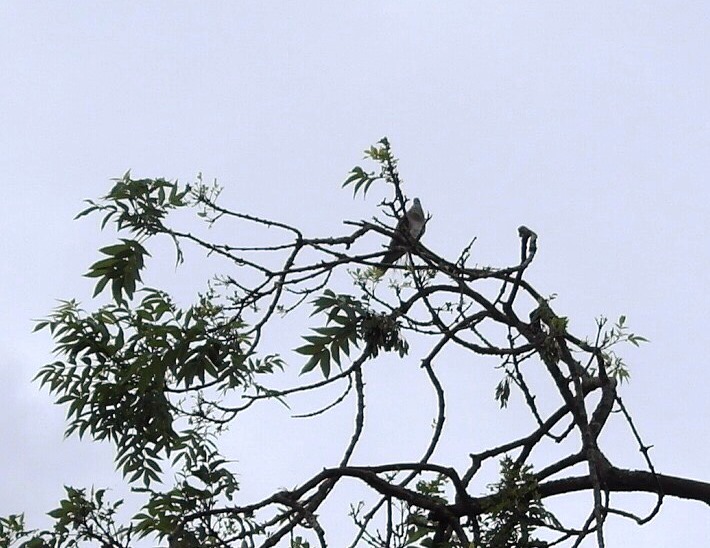 So, is my search over? No, it has only made me want to carry on before they leave on their winter migration. Then of course there is the search once more when they return next spring, hopefully.
As for my work with Operation Turtle Dove, it has given it a new deeper meaning. Whether I am raising awareness as in the photo below from 2013 (taken from Wild About The Wensum at Pensthorpe Natural Park), or talking to anyone who will listen that along with many of our summer visitors this is not one that we can lose.