Exactly 100 years ago today, the North American Passenger Pigeon went extinct. We know the precise time and location of this event – 13:00 in Cincinnati Zoo, USA – and we know the name of that last representative of a species – Martha.
What is exceptional is that just 50 years earlier, the Passenger Pigeon was the most abundant bird in North America and probably the world. There were around three to five billion Passenger Pigeons at the time that Europeans discovered America. Imagine how it must have felt to witness the wildlife spectacle of their huge flocks – a mile wide and up to 300 miles long – darkening the sky from morning until evening as hundreds of millions of Passenger Pigeons moved across the landscape. The vast flocks were poetically likened by the naturalist John Muir to 'a mighty river in the sky… flowing over from horizon to horizon'.
For those that witnessed these incredible flocks, it must have seemed utterly inconceivable that the Passenger Pigeon could become extinct. Yet, famously, this is precisely what happened. Humans drove them to extinction in just a few decades through habitat loss and unsustainable hunting. Disease is thought to have played a role in their precipitous decline too.
The story of the Passenger Pigeon is unsettlingly similar to that of the Turtle Dove here in the UK. The parallels are striking. Both being migratory doves. Both being threatened by habitat loss, unsustainable hunting and disease. Passengers Pigeons plummeted to extinction in just a few decades and Turtle Doves are heading the same way. Turtle Doves are the UK's fastest declining bird species – currently their numbers are halving every six years! Today Turtle Dove numbers in the UK are just 5% of what they were in 1970. At this rate, complete extinction of the Turtle Dove as a breeding species in the UK is a real possibility.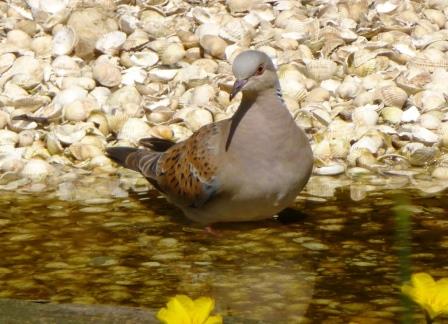 It's too late for Passenger Pigeons, but 100 years on we don't have to accept that Turtle Doves will suffer the same fate.
You can help Turtle Doves in a number of ways. Next time you go food-shopping look out for the Fair to Nature bumblebee logo of Conservation Grade. This simple choice means you will be supporting the wildlife friendly farming that is critical for turtle doves and other farmland wildlife. If you've seen Turtle Doves this year then please submit your records to www.birdtrack.co.uk.
Operation Turtle Dove was launched in May 2012 to stop our Turtle Doves following the same path as Passenger Pigeons. We are identifying the primary causes of the decline through research right across their long migration. We then develop urgent practical solutions – such as advising farmers how they can provide food for Turtle Doves on their land.
One person who has been motivated to go the extra mile – literally – to help support Turtle Doves is wildlife enthusiast, Tristan Reid. Back in February, he wrote a guest blog here about his pledge to run 1000 miles during 2014 in aid of Operation Turtle Dove. Seven months on and Tristan has run an incredible 10 marathons and a total of 820 miles! If you'd like to support his incredible efforts, please donate via Tristan's Just Giving site here. All the donations go to support Operation Turtle Dove. You can hear more from Tristan on this blog next Monday.
Read more about the loss of the Passenger Pigeon and the fight to save Turtle Doves in the UK in The Independent and The Guardian.
Blog: Tara Proud (RSPB)
Photo Credit: S Abbott/Conservation Grade